Geneva, Switzerland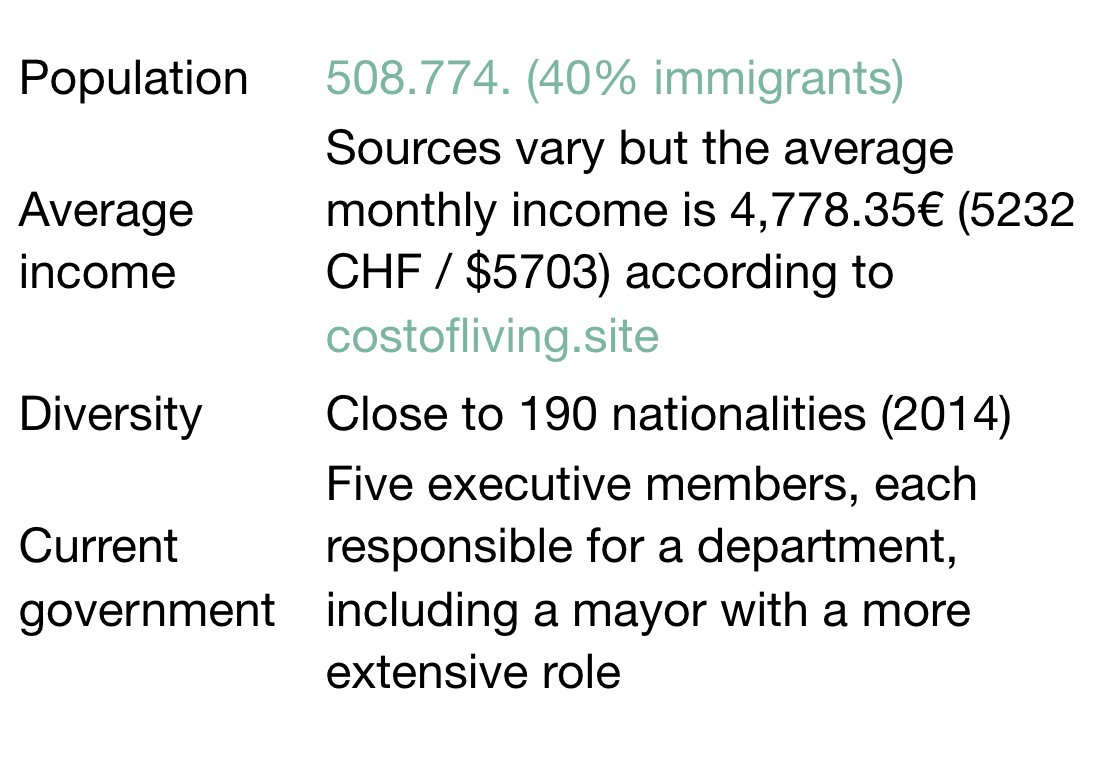 Geneva is a city of recognized international influence. It is the birthplace of international humanitarian law (i.e., the Geneva Convention) and the UN Human Rights Council (HRC) meeting place and a financial and diplomatic center with a political and economic role in the world. It is arguably one of the most influential cities due to the overwhelming presence of institutions, meetings, and congresses.

At the same time, as the Geneva historian Alfred Dufour suggested, Geneva was and continues to be a city of contradictions: simultaneously provincial and cosmopolitan, conservative and daring, tradition-bound yet innovation-friendly, well-to-do yet humble, business-like but hopeful in its humanitarianism. It is a city with a long-standing tradition of hospitality and cultural exchange that shaped its identity.

Geneva's status as an international city, its prominent position on the global stage, its influence on geopolitics, the multi-ethnicity of its population, and its history as a city of refuge and exchange made it a suitable choice for study and intervention.

Phase 1: Our Edgelands Method starts with foundational research. We conducted an in-depth literature review of reports on Geneva's current security policy and surveillance landscape and the current events and hot-button issues in the city. Most importantly, we conducted interviews with more than 40 key stakeholders with a wide range of professional and academic experiences—security and technology professionals, privacy advocates, academics, community organizers, public servants, police, and journalists.

These interviews aimed to understand, from their perspectives, the impact that the digitalization of urban security and, more generally, the increasing growth of surveillance society has on Geneva's residents. We heard a great diversity of stories and experiences that painted the picture of a city full of paradoxes and dualities. Security is a broad but central concept in this picture and encompasses issues and challenges around physical and digital insecurities.

These interviews about urban security, data privacy, and democratic control highlighted the contradicting narratives about adopting digital technologies in the city. While the mainstream narratives painted a picture of Geneva as a physically safe, privacy-friendly, democratically responsive, and accountable city, our interviewees complexified this picture. They pointed out how the adoption of digital technologies is changing the city's social fabric, sometimes challenging the appearance that Geneva, as an international hub, wants to portray to its residents and the world.

We distilled these stories to identify and compile an analysis of trends and challenges discussed in our (forthcoming) Geneva Diagnostic Report. In May, we will hold a series of participatory discussions with different stakeholders in Geneva to find points of both consensus and difference on our initial observations. We will integrate these discussions into a diagnostic report published in June 2022. We will conclude phase 1 of Edgelands Geneva and begin with phase 2—in-person workshops and events.

Check back soon for more information!